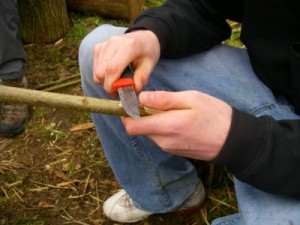 Safety of everyone in our care is of paramount importance to us. We have risk assessments for every aspect of Treecreepers, from individual activity assessments to daily site checks before any group arrives. We have clear policies and procedures to ensure that everyone involved is working from the same guidelines. Our leaders are trained to dynamically evaluate as the sessions take place and will always ensure children are not only safe but feel secure in the woods.
The leaders will also make certain that clear safety guidelines are explained and adhered to as required for the environment or activities that are taking place. Whenever possible the group will be encouraged to get involved in setting the safety rules for the camp and surrounding areas. Treecreepers find this helps children make sense of and see clearly the reasons behind the rules.
One of the core aspects of Treecreepers' programmes is to equip children and young people with self-esteem and confidence to be able to assess risks for themselves and make appropriate decisions. Groups will run with a high ratio of adults to children to allow for close observation but minimal intervention to support this goal.
All leaders are qualified in first aid and carry appropriate first aid kits, mobile 'phones and location details. Any volunteers who work for Treecreepers are always under the direct supervision of a leader and are also CRB checked.
Treecreepers is designed to be a stimulating environment. Woodlands by their very nature are wild places and not sterile or totally risk-free. We don't want to take the thrill and adventure out of an important experience. However, we take all measures to reduce unnecessary risk for children, young people and their workers. If you have any concerns about your group or child's safety please contact us and we will be happy to answer your questions. All Treecreepers risk assessments, policies and procedures are contained in our H&S book and are frequently updated, If you wish to view them or have a copy for your organisation we are pleased to help.
What did you learn about yourself at Treecreepers?
"That I should watch out for others and keep safe and don't do anything dangerous"
-LD age 9