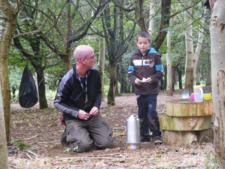 Accompanying teachers or group leaders are expected to help supervise small groups of children under the expertise and guidance of the Forest School leader.
Treecreepers understands that it is sometimes difficult to not step in and stop children getting covered in mud, dragging sticks and jumping in puddles when these things would sometimes be discouraged. At Forest School these are essential elements of their connection with the natural world and vital in increasing body-awareness, motor skills, self-confidence and self-esteem. Unless you believe a child to be in danger please remain calm about mucky faces and encourage them in their explorative journeys…..it's only dirt!
Forest School can be a good opportunity for staff to get to know children or young people away from the confines of their usual environment. Group leaders and staff should not accept lower standards of behaviour. It is very useful to us if you can feedback on the children's experiences.
You are essential as additional eyes and ears in the woods, the more information we have about the way a child plays or interacts with nature the better informed we become in planning future sessions. When we can identify the way an individual likes to learn or what sparks their interest, we can use these preferences to capture their attention and imagination.
"(He) gains so much from the male leaders as he has little male role modelling in his personal life" – C. Hughes. Parent Support Advisor