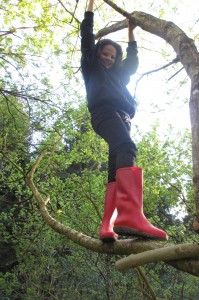 Treecreepers encompasses all that is magical and engaging about outdoor education. It is a safe but challenging adventure led by qualified leaders. We give opportunities to explore and discover the world around us and the world within and the time to do it.
Treecreepers programmes are appropriate for young people from all backgrounds and of all ages. We welcome school groups from year 1 upwards, charitable projects, youth groups and private bookings.
Treecreepers is about young people feeling good about themselves. We believe that it is only from this position that anyone can begin to be confident which removes the barriers to learning and communicating freely. Based in small groups with a high ratio of adults we raise self-esteem through progressive, achievable, linked activities often set by the young people's own agenda. Our focus is on the wellbeing of individuals, their emotional, physical and mental health. It's about safe space. Space to explore talents and face frustrations without judgement or humiliation and learn resilience in a world where the ability to fail and then try again in order to succeed is essential. It's about freedom. The freedom to run and shout and laugh and express emotions and the valuable social skills we learn through positive interaction with others.
Crucially, Treecreepers is also about regular, long term access to nature and woodland in all seasons and all weathers. It's about young people safely pushing boundaries, assessing risks, respecting nature, learning through play and playing with ideas. It's about emotional intelligence and skills for life that encompass the whole individual, their learning styles and talents. It's about all the things that happen in the woods that couldn't happen elsewhere.
Read more in our Treecreepers FAQ

To see the world of Treecreepers and what we get up to take a look at our gallery.
Treecreepers are just a phone call away. Ring Simon or Harry on 07915 309 029 or Contact us.
What was the best thing about being at Treecreepers?
"When we all made the fire and were jumping in the rivers and learning about safety"
– LD age 9 and 1/2
"(The children) gained confidence, had opportunities for positive interaction with adults and peers alike, gained interpersonal skills and had fun"…
"Your service is really needed"
– J Hibbert CYPD